REAL PICTURES – REAL PROJECTS
A sample of recently completed projects
---
A complete dust free loading station with silo aeration pod, silo withdraw valves, air gravity conveyor, integral filtration, tel...
Read More


---
Three Shiploading nozzles consisting of Bustle Filters, Velocity Reduction Modules, and Rotational Trimming Spoons are manufactured to for installation on a pivoting boom structure in Louisiana, for loading grain into ocean going vessels. Project shipped in Fall of 2018.
...
Read More
---
One of six loading stations complete with silo withdrawal valves, Vaculoader filter module, single direction positi...
Read More


---
A courtesy call to a local cement terminal shows a 28 year old MC22-EV, (originally sold in 1990), still humming away and loading trucks. Midwest supplies spare parts for all our loading spouts as far back as the early 1970...
Read More


---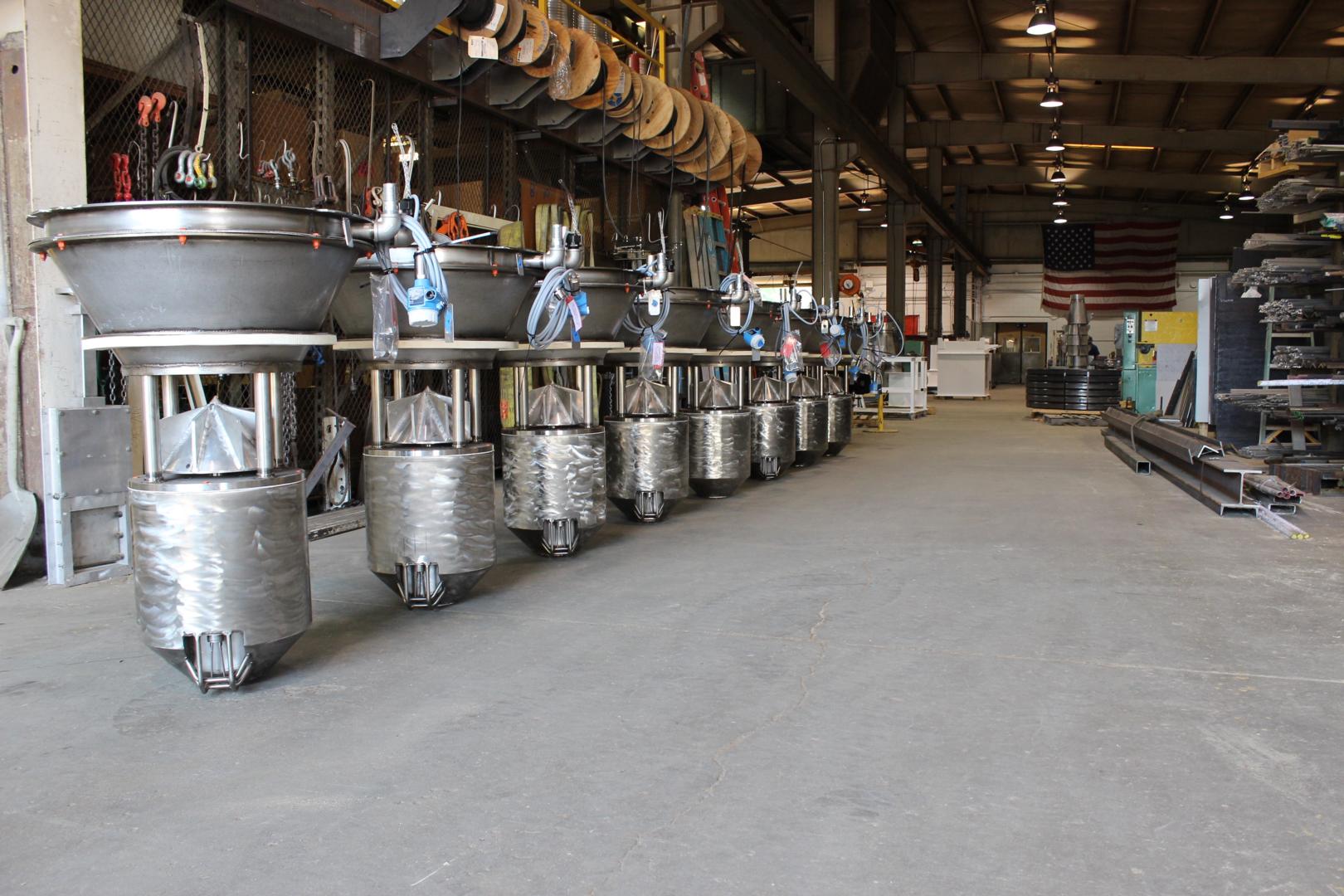 (18) Eighteen Midwest electric MEOPT13 SpinTrim centrifugal product trimmers are used in multiple applications on the gulf coast to maximize fill capacity when loading polyethylene pellets into enclosed trucks and railcars. Trimmers shipped in summer 2018.
...
Read More
---
Six flyash silos are fed by a Midwest International distribution system consisting of 150 feet of Airflo conveyors and twelve MAOG300 pneumatic diverting slide gates. This project shipped to a Colorado bulk materials terminal in Spring of 2018.
...
Read More
---
(1) Aervent AV3 and (2) Aervent AV4 filter modules used for venting pneumatic conveying systems. This project shipped to an Illinois cement facility in Spring 2018.
...
Read More
---
Ten 1250 CFM Vacupac bin vents are sold to a Michigan based plastics company to vent pneumatic conveying of plastic regrind into a storage bin. Project was built in 2017/2018.
...
Read More
---
(2) MSPV1200 single direction positioners and (1) MRSPV1200 Roundabout positioner are equipment with absolute encoders to provide auto positioning capabilities for loading frac sand into railcars. This equipment was commissioned in spring of 2018.
...
Read More
---
Six truck loading stations are equipment with MC22-EV bulk loading spouts and MDC37 dust collectors at a Saudi Arabian Barite facility. This project shipped in Winter of 2018.
...
Read More
---
Four (4) Vacupac MA30-EV spout + filter combos are used to load frac sand into enclosed trucks at this North American facility. These units were installed in Fall of 2017.
...
Read More
---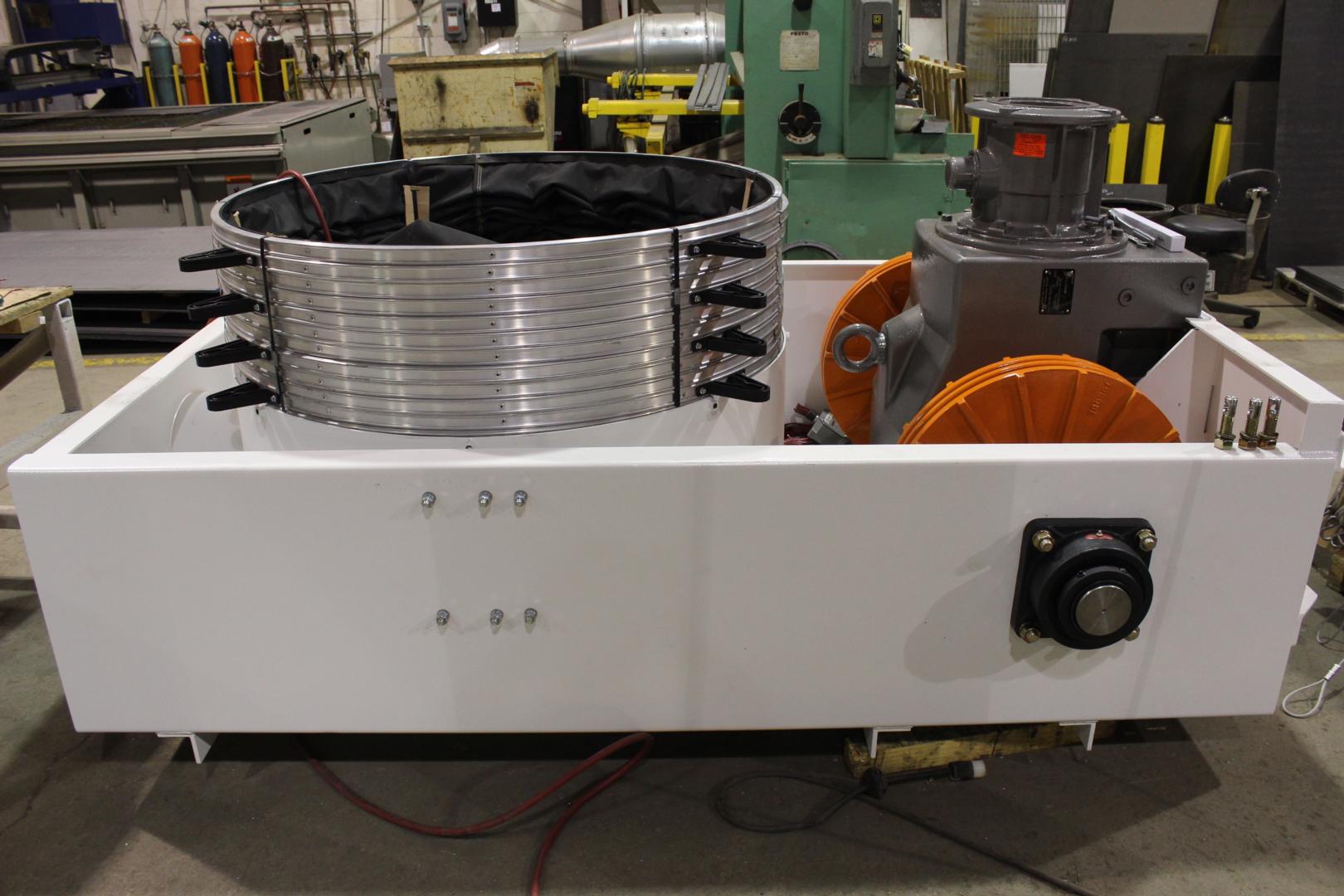 This 60 foot travel limestone stacker is designed to stockpile 1800 TPH of limestone and includes a double tier water suppression system for dust control. This stacker shipped to Peru in November 2017.
...
Read More
---
In this application, the standard square foot print of the Vacupac Bin Vent has been elongated to maximize capacity and match the housing of a clinker belt conveyor. This unit shipped to a Canadian Cement Plant in October 2017.
...
Read More
---
Photos of (4) Flattop positioner installations with special paint scheme located at a Toronto cement terminal.
...
Read More
---
These MEOPT-13 SpinTrim™II electric product trimmers are specially designed to be installed on existing loading spouts with low headroom available. Using electric motors and stainless steel impellers, these units will evenly spread over 3300 LB per minute of polyethylene pellets during the loading process to maximize railcar fill capacity and reduce cost of transportation. These Spi...
Read More


---
A series of five MC22-OV bulk loading spouts are designed and manufactured for a Corn Germ and Gluten Meal facility in Israel. Project ready for shipment in July of 2017.
...
Read More
---
Two chemical duty loading spouts with Vaculoader filter modules are designed to improve dust collection performance at a Canadian sodium chlorate facility. Construction and materials are carefully engineered to handle the hygroscopic and corrosive nature of this product. These units shipped in June of 2017.
---
With its unique triangular pads, this Midwest aeration pod maximizes the aerated surface area while still maintaining an aggressive slope for silo distribution. Result; improved flow capacity with reduced air consumption. The low profile design allows this little pod to be installed with very low head room available. This unit shipped to a southern cement plant i...
Read More


---
This low profile assembly hangs below a shuttling conveyor and includes an emergency slide gate, MSPV300 Single Direction Positioner, and Low Profile MV30-EV bulk loading spout. This unit shipped to a Utah cement plant in Spring of 2017.
...
Read More
---
A MVL54H Hopper Feed Vaculoader with MSPV600 Single Direction Positioner and MV30-EV Bulk Loading Spout for a west coast cement plant loading enclosed railcars. This totally self contained system shipped in March 2017.
...
Read More
---
A short (perhaps, too short) field video of an MD30-OV loading clinker into open trucks.
...
Read More
---
Three MC22-EV bulk loading spouts are being prepared for shipment to a Kuwaiti minerals facility located off the Persian Gulf for loading Barite and Bentonite into enclosed vehicles. Project ready for shipment in March 2017.
...
Read More
---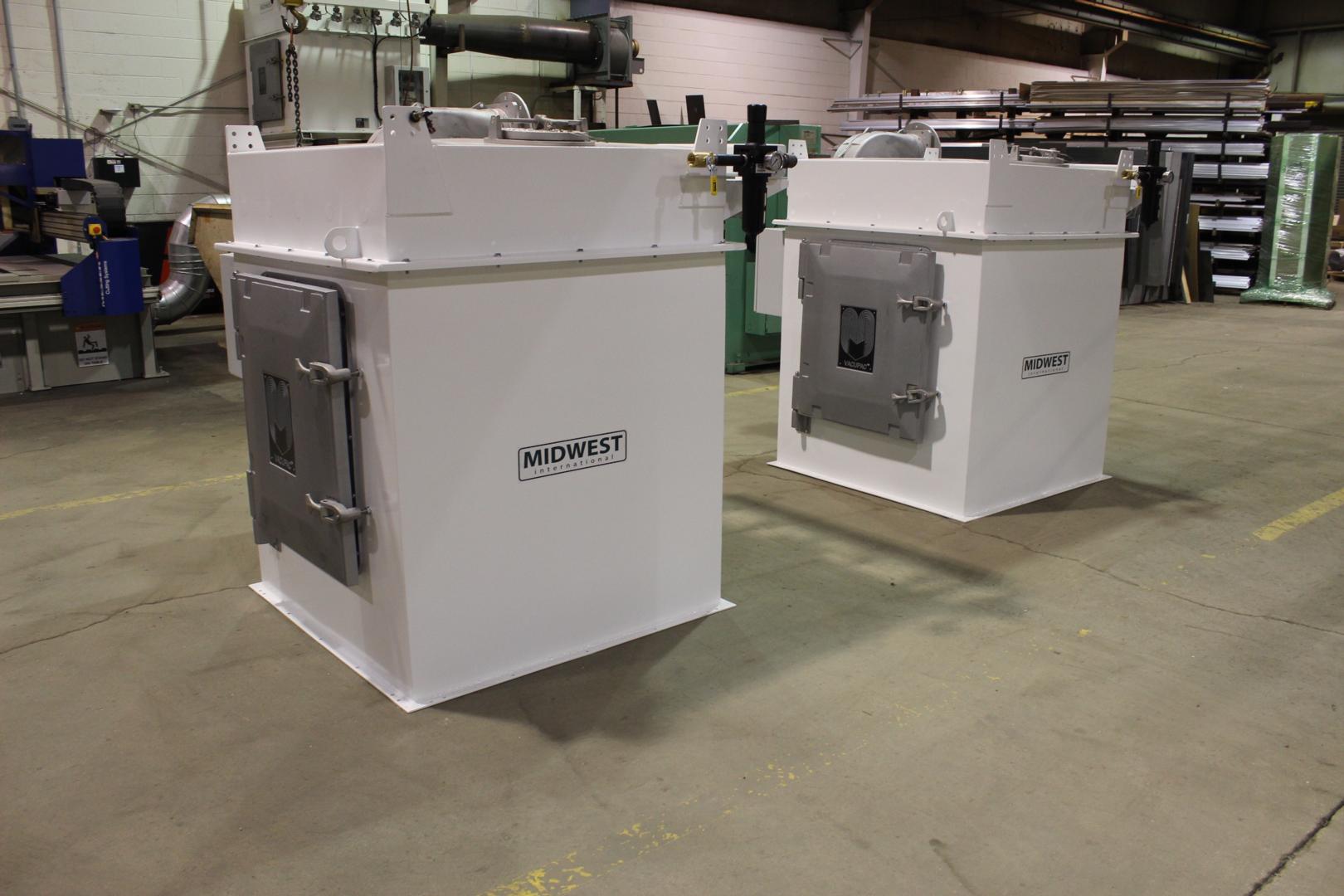 A pair of 1800 CFM Vacupac Bin Vents are designed with 2.2:1 air to cloth ratio and 206 fpm interstitial (can) velocity. The bin vents incorporate easy to remove Twist-Tite threaded filter cartridges, two heavy duty hinged cast aluminum inspection doors with Camloc T handles, Sealmaster clean air plenum inspection door, and On-Demand purge system with 4-20mA output for...
Read More


---
One of two manually operated bulk loading spouts being tested before shipping to a Mexican bulk facility in March 2017.
...
Read More
---
February projects in Alabama, California, and Canada include multiple gate designs and orientations. Pictured is one of five MCB350 curved blade gates for silo withdrawal of silica sand, two complete gate arrangements for metered flow control of cement to an air gravity conveyor, and a MAOG350 slide gate above a MD30-EV bulk loading spout. All projects pictu...
Read More


---
Midwest MG50-OV bulk loading spout loading synthetic gypsum on the Ohio River.
...
Read More
---
A 4000 CFM dust collector is designed to vent clinker dust from a waist brick disposal chute. This dust collector incorporates Midwest standard On-Demand purge system with digital display and 4-20mA output for remote monitoring of the differential pressure and high/low alarm states. Standard features also include, threaded twist-tite filter adaptors, heavy duty hinged cast alum...
Read More


---
This installation uses two Midwest bulk loading spouts to load meal into open trucks. Each spout incorporates its own 800 CFM Vacupac filter module for low profile self contained loading to a design rate ot 150 TPH.
...
Read More
---
Two low profile Compaculoaders are designed for open stacking and open truck loading at a limestone plant in Bolivia. These units are designed for high temperature operation and include motor control cabinets (MCC), and operator control consoles. Project ready for shipment in November 2016.
...
Read More
---
These telescoping tubes extend 65 feet of travel and are constructed from stainless steel tube segments, heavy structural channel supports, and seven layer seal assemblies. The Midwest telescoping tubes are designed with sufficient overlap to allow minimal rotation during tube extension and retraction. This set of tubes was shipped to a major grain export terminal on ...
Read More


---
For many installations, an inexpensive light duty spout with manual operation makes sense. This Manual MMC22-EV spout is available with a modified drive pan for use with a separate manual drive winch. These units utilize all the same telescoping spout components as the standard MC22-EV just without the need of electrical hook-up. The MMC22-EV is a great option for applica...
Read More


---
The newly designed Vacupac Aervent can handle a wide range of applications including air gravity conveyors, belt conveyors, drag conveyors, augers, bucket elevators, transfer points, hoppers, bins, and silos. These economical units come complete with clean air fan, time sequential purge system, differential pressure gauge, and 1" NPT filter regulator. Machined cast aluminum doo...
Read More


---
---
Two MC22-EV bulk loading spouts and two Vacupac dust collectors are supplied to a Saudi Arabian minerals company for loading enclosed tanker trucks. The spouts and dust collectors are designed and manufactured with operator control panels and motor control cabinets. Project was completed and ready for shipment in October 2016.
...
Read More
---
For a cement terminal in Michigan, this Vacupac MA30-EV bulk loading spout includes a compact self contained filter module and pneumatic level sensing kit designed for loading finished cement into enclosed trucks. Shipped October 2016.
...
Read More
---
This heavy duty gate is built with 8" structural channel, 3/4" blade, and 3" diameter camrolls. It includes a chain wheel operator with linear actuator for manual shut off of a coal. Shipped October 2016.
...
Read More
---
This little MC22-OV will load iron ore dust into open trucks just outside Chicago. Shipped September 2016.
...
Read More
---
This Midwest project includes ten identical stations designed for high capacity loading of soy meal into slotted railcars. MSPV900 single direction positioners allow for three feet of lateral movement over each railcar hatch. The standard equipment designs are modified with increased hopper angles and enlarged openings to promote higher capacity wi...
Read More


---
Heavy cast drive lifting pulleys provide stable non-deflecting construction with a 6:1 service factor over fabricated pulleys. These pulleys are cast from maliable high strength ductile steel and are precision machined to provide balanced spooling of the lift cable during spout extension and retraction. This heavy duty pulley design has been a stap...
Read More


---
---
Two electrically operated diverter gates with 400 BHN weld in liners shipped to a western mining facility in August 2016.
...
Read More
---
This MD30-OV, shipped in August of 2016, is used to load dry sludge into open trucks. This spout includes an inflow-out filter located at the dust outlet.
...
Read More
---
This complete truck load-out consisting of MV30-EV bulk loading spout, MFPV-600 Flattop Positioner, and MAOG450 emergency knife gate is completely assembled, prewired, tested and shipped as one complete assembly. The installation crew simply needs to raise the entire assembly into place, fasten with bolts, and connect wiring to single point utility enclosures for this load-out t...
Read More


---
A Detroit Cement Terminal loading finished cement into enclosed trucks using Midwest MD30-EV bulk loading spout.
http://midwestmagic.com/products/loading_spouts/md30_ev/
...
Read More
---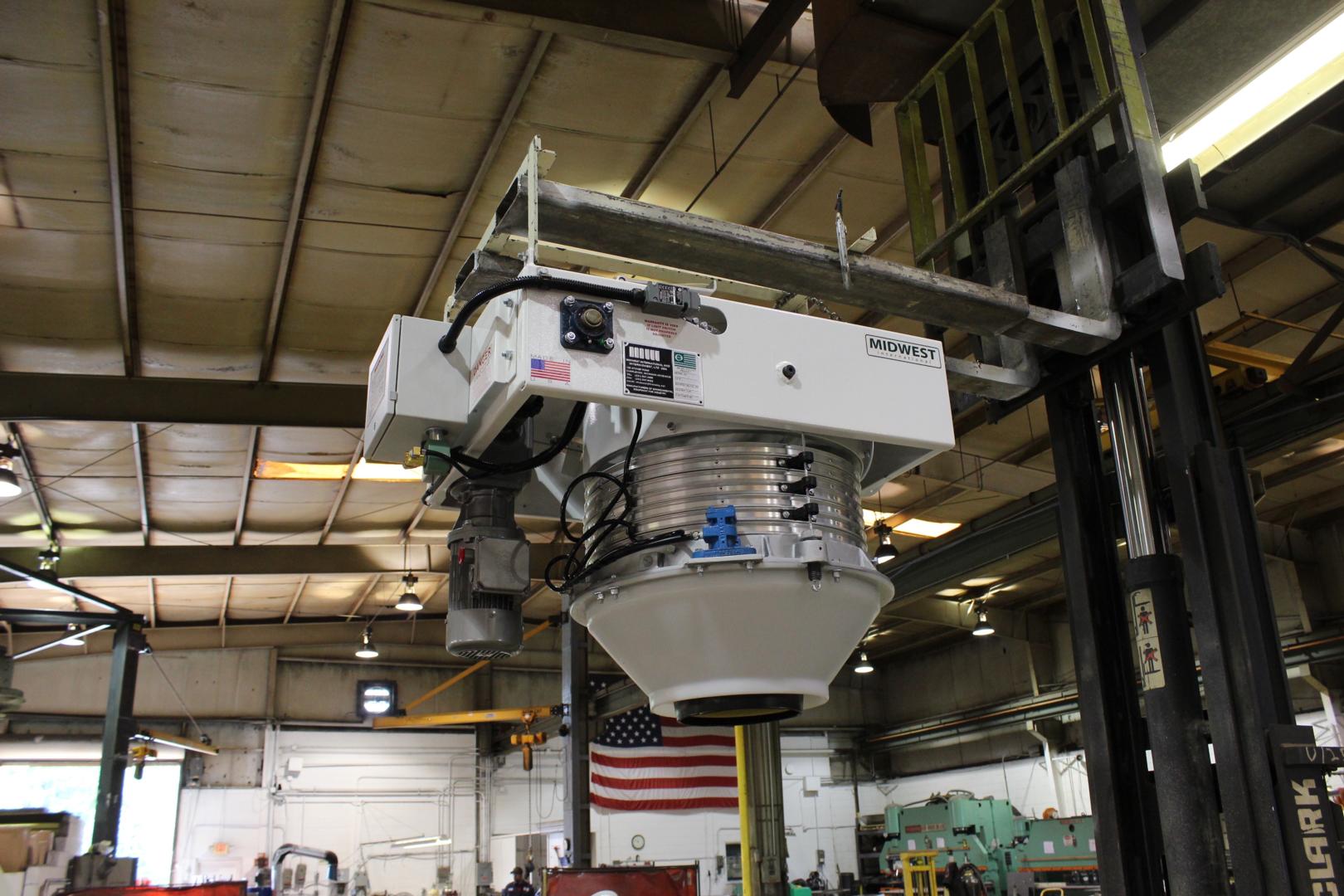 These classic littel truck loading spouts (or "puppies" as we call them here at Midwest) are our bread and butter, and the staple in which our company was formed. This little MC22-EV unit shipped to a Canadian cement terminal in July 2016.
http://midwestmagic.com/products/loading_spouts/mc22_ev/
...
Read More
---
This Compaculoader project was designed for a Louisiana cement terminal with very little headroom at their truck bay. A silo withdrawal valve (rotary cut off valve) is able to gain critical in...
Read More


---
Two custom size manual MLA Gates incorporating Midwest's totally enclosed dust tight linear actuators with visual position indication. For installation in an air gravity conveyor at a Canadian Cement Plant. Shipped July 2016.
...
Read More
---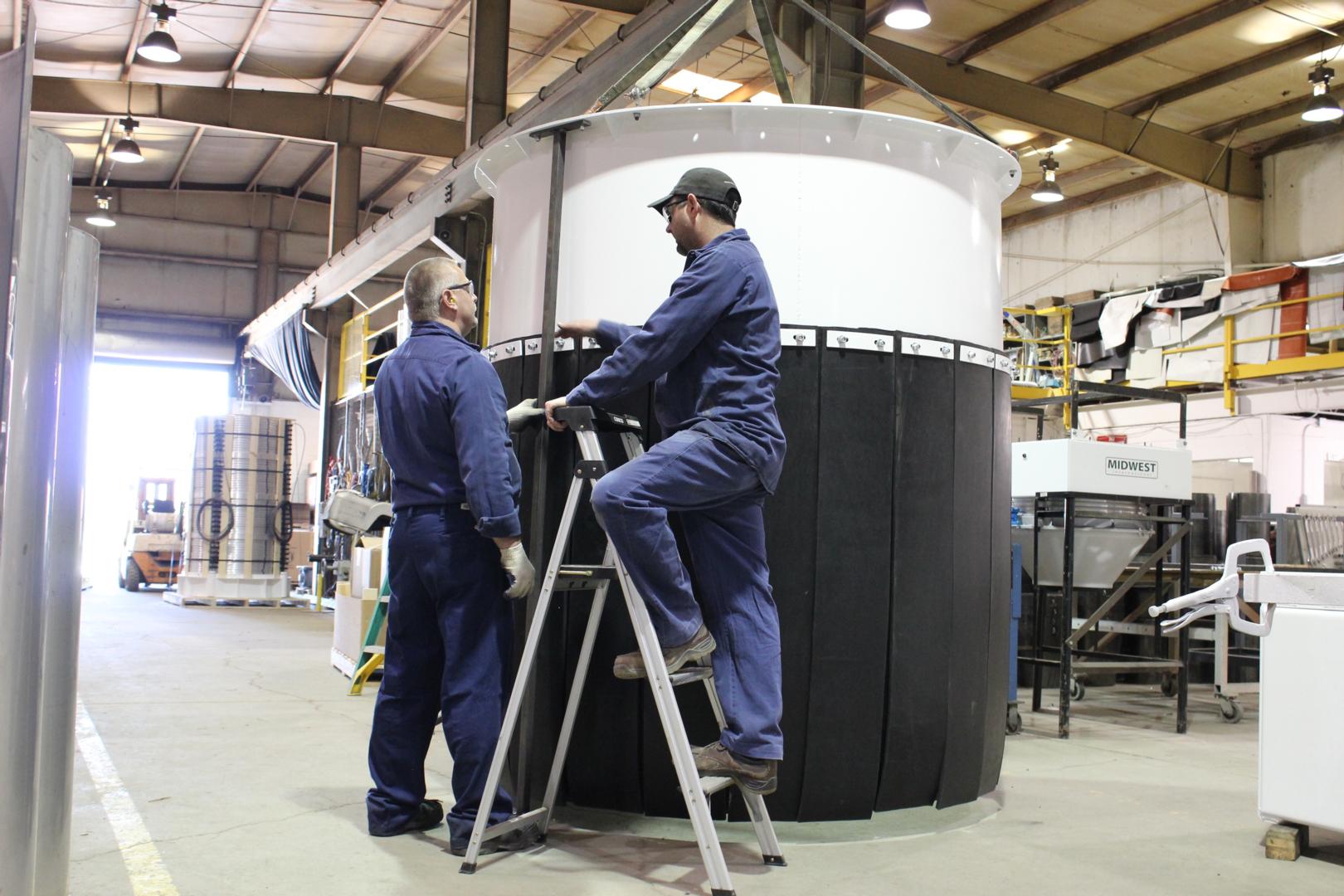 When fully assembled, this MH72-OV unit will extend nearly 100 feet in length and weigh over 30,000 LBS. The spout will be attached to the end of a 72" wide belt conveyor and will be responsible for stockpiling coal off the shores of lake Michigan at a rate of 3000 tons per hour. This unit was shipped out on 2...
Read More


---
This 55FT travel MG50-OV spout will be loading cement into enclosed barges on the Mississippi River. Shipped 24 June 2016.
...
Read More
---
Midwest MSPV-600 Single DIrection Positioner with MD30-EV Bulk Loading Spout loading finished cement into enclosed PD trucks.
...
Read More
---
After 42 years in operation, the (6) boat loading spouts at Medusa Cement in Charlevoix (Originally manufactured by Midwest International in 1972) were replaced. The new spouts, commissioned in 2015, are smaller, lighter, include upgraded features, and allow for increased loading capacity.
...
Read More
---
External look at silo withdrawal valve set points using position transducer. Valve is set to open slowly and close quickly.
...
Read More
---
This 35FT travel ME36-OV Bulk loading spout converted with telescoping tubes is designed for open stockpiling of wood chips and wood pellets. Shipped November 2015.
...
Read More
---
Four ME36-EV Bulk Loading Spouts built with stainless steel construction used for loading fertilzier in the Midwest. Shipped in 2015.

...
Read More
---
Apatite and Nepheline distribution in Russia required precise positioning of their railcar's offset hatch locations. (4) Midwest Roundabout Positioners are implemented allowing for automatic placement into each railcar's unique hatch configuration. This project shipped in Spring of 2015.
...
Read More
---
New Telescoping Tubes, Velocity Reduction Module (VRM), and Finishing Hopper retrofitted to an existing Midwest Bustle Filter installation at a major grain export facility on the Mississippi River. Shipped January 2015
...
Read More
---
In March of 2014, this Articuloader was shipped out to a sodium sulfate plant in Mexico.
...
Read More
---
Weighing 3140 LB, this heavy duty gate is constructed from 10.25LB structural channel and incorporates a 1" thick blade with Quad-Rack electric drive. This 48" gate was shipped to an Ohio grain facility in 2014.
...
Read More
---
Midwest International Bulk Loading Spouts loading grain at Port of Longview, Washington in 2012.
...
Read More
---
Low headroom at an alkali bypass load-out in Ohio dictated the need for this nice little Vacupac module loading 250 tons per hour of kiln dust into enclosed trucks. This Vacupac MA30-EV incorporates a small filter module which is built into the drive pan assembly of the bulk loading spout. Shipped August 2013​
...
Read More
---
This 2013 installation implemented cement distribution equipment engineered and manufactured by Midwest International.
...
Read More
---
Loading open barges with finished cement on the Mississippi River, this 85 FT travel MG50-OV Bulk Loading Spout is converted with telescoping tubes and an internal velocity reduction module (VR...
Read More


---
50FT Travel Articuloader System with Vaculoader Filter Module and MV30-EV Bulk Loading Spout for loading soda ash into enclosed railcars. Shipped in June of 2012.
Read More
---
Twin warehouse stackers at a major phosphate producer in North Carolina. These Midwest retractable bulk loading spouts include Vacupac Bustle Filters and Velocity Reduction Modules (VRM). Project shipped...
Read More


---
Vintage video of Midwest telescoping shiploader with Chokefeeder loading white and red potash at Port of Ventspils Latvia.
...
Read More
---
In 2010 this highly engineered Chokefeeder System was installed in Lima, Peru for loading cement and clinker into ocean going vessels. This video was taken during the testing/commissioning pha...
Read More


---
At the first major US grain export terminal to be erected in the last 20 years, Midwest is awarded the contract for three shiploading spouts to load ocean going vessels at a design rate of 60,000 bushels per hour. Equipment includes Torqemaster II Drive Winch, Telescoping Tubes, Vacupac Bustle Filter, and Velocity Reduction Module (VRM).
...
Read More
---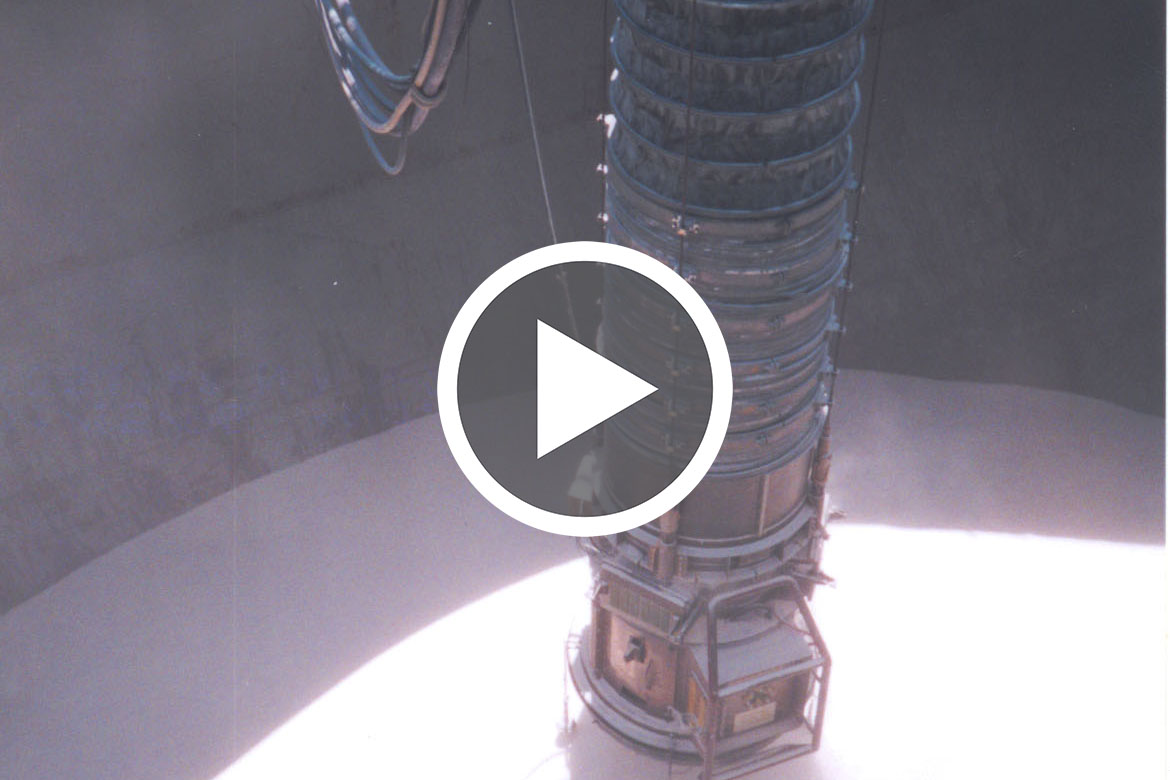 Vintage video of Midwest telescopic shiploader with Chokefeeder loading alumina in Kwinana Western Australia.
...
Read More
---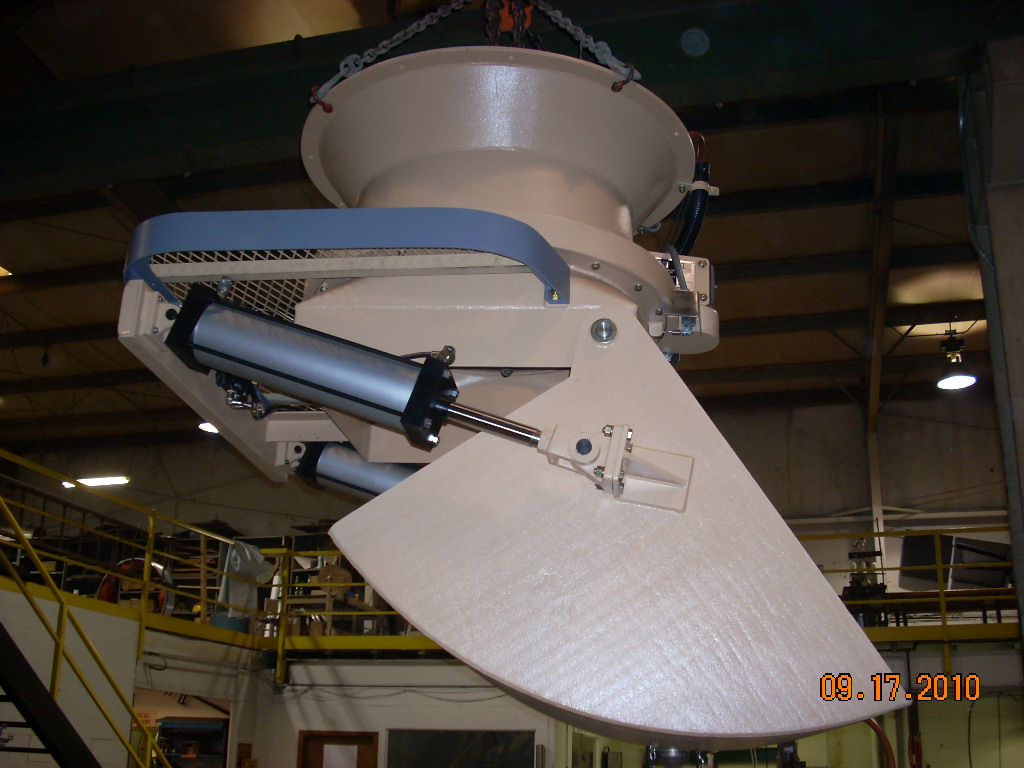 This 2010 project consited of (3) Telescoping Tubes Assemblies, Tilt-Away Rotating Trimming Spoons, and Torquemaster Drive Winches for a Chilean Port loading Zinc and Lead Oxides.
...
Read More
---
Ten Loading stations rated fo 1200 tons per hour each allow for high speed loading of alumina into railcars in Western Australia. Each station is complete with MLA manual gate, MRWV rotary withdrawal valve, MSPV300 Single Direction Positioner, and MV36-EV Bulk Loading Spout. This high speed loading application allows two 100 ton railcars to be loaded in one minute.
...
Read More
---
In 2009, and second Chokefeeder system was installed at another birth at Port of Santos Brazil.
...
Read More
---
Loading at a rate of 3500 tons per hour, this 90 foot travel coal stacker uses Corten steel telescoping tubes and is hoisted with a Midwest Torquemaster II drive winch. Shipped in 2008/2010.
...
Read More
---
Loading raw sugar at Port of Santos at a rate of 3000 metric tons per hour, this Midwest Telescoping Spout was shipped in 2006 complete with Torquemaster drive winch, telescoping tubes, Chokefeeder and R...
Read More


---
Vintage Video of Midwest Shiploading Spout loading dry phosphate at Ports Corporation in Aqaba Jordan.
...
Read More
---
---